Return of the Horror Drive-In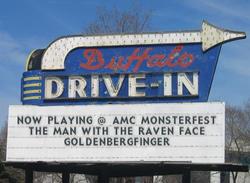 Drive-ins, once a staple of American movie-going, are said to be making a comeback.
While I spent many a summer evening of my youth attending Disney drive-in double features, I sadly have never been able to experience any of the fun creature features that were synonymous with the drive-in experience — all-night-long horror quadruple features having long since vanished.
Until now…
Next weekend (Friday, September 7, and Saturday, September 8), the folks behind the DVD review website DVD Drive-In are teaming up with Vandergrift, PA's Riverside Drive-In to bring the glory days of the old dusk-to-dawn horror shows back to life with Drive-In Super Monstermania. $10 will bring you admission to four films each night (along with classic trailers) and an opportunity to relive a long-gone classic film going experience.
Friday night's films include a "Nature Run Amok" series of Bert I. Gordon's Food of the Gods and Empire of the Ants, Jeff Liberman's Squirm, and the original Willard, while Saturday night brings you Tales From the Crypt, Horror Express, Grave of the Vampire (written by David Chase, creator of The Sopranos!), and Hannah: Queen of the Vampires. Sound like a hell of a lot of fun.
Shows start at dusk, but I think you knew that already.
Read More