Resident Evil: Extinction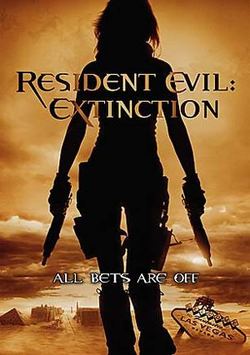 So, the subways in New York have replaced all of their Skinwalkers posters with these Resident Evil: Extinction posters.
It's kind of interesting, I suppose that they keep cranking these out. By all accounts, it's kind of an unloved series. The idea is nice, and the game series they're based on is unparalleled delight.
Though there's a strong argument for the Final Fantasy series, the Resident Evil games are one of the best examples for video games replacing movies as our greatest art form. It's art you can interact with. A story that engages you physically and emotionally and can scare you as much as any shadow whisper or cat screech.
The movies have been…weak, but Milla Jovovich has audience goodwill in spades. Has she been in a good movie ever? No. Is she everyone's favorite? Yes. Why? I like her. I can't tell you why. I'll see a movie just because she's in it. Throw in zombies and a post-apocalyptic Vegas? I'm there. Will it be terrible? Probably! Will I care? Probably not. Why? Milla. And no jury will convict me of bad taste, since they're all her fans as well. I defy any of you to say truthfully you do not love her.
Read More