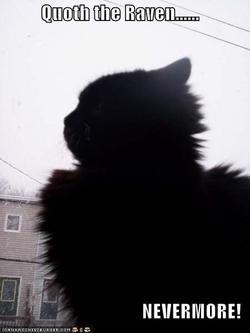 I'm a cat person, love 'em, grew up with 'em, got allergic, still love 'em. That doesn't mean I don't think cats can't be creepy. They're familiars, after all. And when they're cornered, man, put on the bulletproof vest.
In my search for the potentially scary, I found the Edgar Allan Poe Raven Cat courtesy of the good folks at I Can Has Cheezburger? I mean, I wouldn't want to see this guy in the Gothic hallway in the middle of the night, red eyes blazing: he might turn into a raven and fly at me with cat claws ready. Oh, "the silken sad uncertain rustling of each purple curtain."
Raven Cat just hints of fear. If you really want scary, try this orange cat on for size.
Read More