Peter Davison to Return to Doctor Who?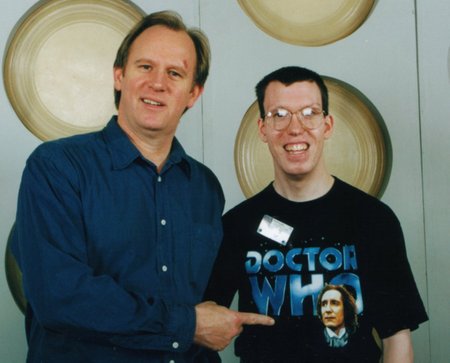 Outpost Gallifrey is posting a rather bizarre but potentially wonderful rumopr on what we might see in Doctor Who's fourth season next year.
According to Seventh Doctor Sylvester McCoy, who apparently heard the news from no more unlikely source than Peter Jackson, Peter Davison is due to return in Series 5 for a multi-episode team-up between the 10th Doctor and the 5th.
If true, that's potentially fantastic, and Peter Davison never did really put down his Doctor's Broccoli: he's been doing a phenomenal job playing the Doctor in the Big Finish Doctor Who audio plays (which, across the board, are pretty much better than anything the BBC has ever produced).
But hold on a second… Peter Davison is 54 now. It's been 25 years since he played the Doctor on film. And while he's aged well, he definitely doesn't look like the fresh-faced, boysome Fifth Doctor we all saw die.
I'm guessing this is nonsense: there's just no way this could be plausible. If Davison is set to return, my guess it's as a different character. And as much as I like Peter Jackson, what would he know about it?
Sylvester speaks a SPOILER [Gallifrey One, via SF Signal]
Read More