Penn, Wang, Herzog for Labor Day in Telluride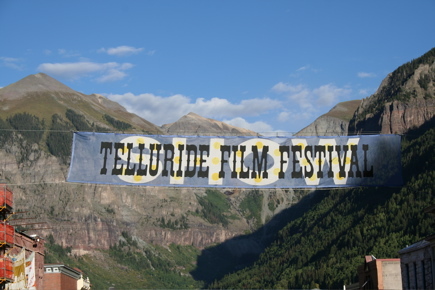 Some three dozen new features will be unveiled this weekend at the 34th Telluride Film Festival in Colorado, including anticipated first screenings of new films by Noah Baumbach ("Margot at the Wedding"), Sean Penn ("Into The Wild"), Wayne Wang ("A Thousand Years of Good Prayers") and Werner Herzog ("Encounters at the End of the World"), as well as accalimed recent festival hits from Julian Schnabel ("The Diving Bell and the Butterfly"), Christian Mungiu ("4 Months, 3 Weeks and 2 Days"), Marjane Satrapi and Vincent Parronaud ("Persepolis"), and Baltasar Kormakur ("Jar City"). Rounding out the list, as always, will be a number of surprise showings and late additions — one of which will be Todd Haynes' anticipated "I'm Not There" — as well as a number of archival films, tributes, and a new series of movies about the movies.
"I have to say thank you to the filmmakers of the world for making what is my first year look very good," praised Gary Meyer, the new co-director of the festival, in a conversation. After a number of years as a key staffer, Meyer was named to run the event with Tom Luddy after festival co-founders Bill Pence and Stella Pence announced their departure at the conclusion of last year's edition. "If we had any problem," enthused Meyer, "It was that there were too many good movies."
Actor Daniel Day Lewis, star of the upcoming Paul Thomas Anderson film "There Will Be Blood," will be one of three honorees in Telluride, but Anderson (who will present the award) is only expected to show a portion of his still unfinished new film. Also to be honored in Telluride this year are renowned Indian director Shyam Benegal ("Ankur," "Bhumika," and "Zubeidaa") and composer Michel Legrand, whose films "Five Days in June" and "The Young Girls of Rochefort" will screen this weekend. The festival will also honor film critic Leonard Maltin, who will present a selection of Vitaphone shorts.
FESTIVAL LINEUP
New feature films and documentaries (information provided by the Telluride Film Festival):
– Todd McCarthy's "Pierre Rissient: Man of Cinema" about the influential publicist, sometime film distributor and film buff who discovered talent such as Jane Campion and Abbas Kiarostami.
– Lee Chang-dong's "Secret Sunshine" stars Jeon Do-yeon, winner of the Best Actress prize at Cannes, as a young woman trying to adjust to a new life with her young son amidst tragedy.
– "Who is Norman Lloyd?," Matthew Sussman's biography tracing actor/director Norman Lloyd's 70 years as an entertainer.
– "Rails and Ties," Alison Eastwood's directorial debut, stars Kevin Bacon and Marcia Gay Harden in a story about two families in physical, emotional and psychological collision.
– Julian Schnabel's "The Diving Bell and the Butterfly" turns Ronald Harwood's adaptation of ELLE France's editor, Jean-Dominique Bauby's best-selling memoir into a celebration of his hero's two remaining assets: imagination and memory. The film, which won Schnabel the best director prize at Cannes, stars Mathieu Amalric, Marie Josee Croze, Emmanuelle Seigner, Anne Consigny and Max von Sydow.
– Winner of Cannes' Palme d'Or, writer-director Cristian Mungiu's film, "4 Months, 3 Weeks and 2 Days," set in the final year of Ceausescu's dictatorship in Romania, depicts the horrors of the Securitate and the brutality of its methods used. Starring Anamaria Marinca and Laura Vasiliu.
– In Eran Kolirin's "The Band's Visit," the Alexandrian Police Orchestra, comprised of eight or nine slightly bewildered Egyptian policeman, head to Israel to play at the inaugural ceremony of an Arab arts center, only to find themselves lost in a foreign city. Starring Ronit Elkabetz, three-time winner of the Israeli "Oscar."
– "A Thousand Years of Good Prayers," Wayne Wang's adaptation of stories by young writer Yiyun Li, explores the cultural differences between China and America while a father (Henry O) travels to Spokane to visit his daughter.
– Stefan Ruzowitzky's "The Counterfeiters" is the true story of the largest counterfeiting operation in history set up by the Nazis in 1936.
– "Persepolis," Marjane Satrapi and Vincent Parronaud's adaptation of Satrapi's graphic novel by the same name, is a gripping, bittersweet and surprisingly funny female coming-of-age tale. Catherine Deneuve, Sean Penn, Gena Rowlands and Iggy Pop provide voice support.
– "When Did You Last See Your Father?", David Nicholl's adaptation of poet-novelist Blake Morrison's memoir directed by Anand Tucker tells the story of a son's conflicting memories of his dying father. Starring Colin Firth and Jim Broadbent.
– In "Terror's Advocate," Telluride veteran Barbet Schroeder documents the story of the controversial French lawyer Jacques Verges, a former Free French Forces guerrilla who defended unpopular figures such as Carlos the Jackal and Holocaust denier Roger Garaudy.
– "Into The Wild," writer-director Sean Penn's adaptation of Jon Krakauer's nonfiction tale of Chris McCandless's (Emile Hirsch) solo journey into Alaska's most remote wilderness.
– "Jar City," adapted from one of Arnaldur Indridason's best selling detective-novel series by writer-director Baltasar Kormakur, is a police thriller set in contemporary Iceland starring Ingvar Sigurdsson.
– "Jellyfish," co-directed by popular Israeli novelist Etgar Keret and his wife, screenwriter Shira Geffen, who won Cannes' Camera d'Or for their film, follows three women through their lives in Tel Aviv. Stars Sarah Adler, Ma-nenita De Latorre and Noa Knoller.
– In writer-director Li Yang's "Blind Mountain," the promise of a decent paying job lures a woman to a desolate farming village in Northern China only to find out she's essentially been sold in to slavery.
– "Brick Lane," Sarah Gavron's adaptation of Monica Ali's controversial Booker Prize-winning novel, follows Nazneen (Satish Kaushik) from her impoverished life in Bangladesh to post-9/11 London, where she struggles to make sense of her life.
– Oscar-winning Kevin Macdonald returns to Telluride with "My Enemy's Enemy," a documentary that tracks Nazi war criminal Klaus Barbie, a.k.a. the Butcher of Lyon.
– "Cargo 200," Aleksei Balabanov's controversial film set in 1984 ravaged industrialized Russia offers a detailed portrait of the Soviet Union in its death throes.
– "Margot at the Wedding," from writer-director Noah Baumbach, tells the story of Margot (Nicole Kidman), who tries to stop the wedding of her sister Pauline (1993 TFF Tributee Jennifer Jason Leigh) to the less-than-impressive Malcolm (Jack Black). Ciaran Hinds and John Turturro round out the ensemble cast.
– In "Encounters at the End of the World," Werner Herzog explores the vast empty splendor of Antarctica and, along with the physicists, biologists and volcanologists he interviews, tries to extract meaning from this desolate place.
– "Wind Man," Khuat Akhmetov's striking second feature centers around a struggling town in post-Soviet Kazakhstan visited by a mysterious, aging, sickly man with wings and the gift of flight.
– In "Journey With Peter Sellars," Mark Kidel travels the globe with Sellars (TFF Guest Director, 1999) to reveal the inner life of a true visionary.
– "Steep!," writer-director Mark Obenhaus's extreme skiing documentary features ski legends Stefano de Benedetti, Glen Plake, Doug Coombs and Seth Morrison.
Read More