Painkiller Video Game 2 B Scary Movie?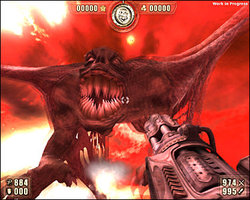 This might work. Fans of the Painkiller video game know that the offerng was a lovable though scary throwback to the days when a simple first person shooter was all the rage. But the game actually had a plot..somewhere in there.
See, Daniel Garner's in a horrible car crash. When he wakes, he's stuck in between heaven and hell. The loons in hell are trying to make heaven their own and he's got to defeat them to make sure heaven is safe for, well, I don't know, maybe the sad, abused kid in The Lovely Bones. Oh, he gets to go through the pearly gates if he defeats Lucifer and his minions.
Hit the jump for a game trailer and more about the movie.
Says WIred, "Jon Berg and Todd Komarnicki will be producers, with newbie Ben McGaw
handling the screenwriting duties. Berg apparently became interested in
telling the Painkiller story after seeing the game featured on 60 Minutes. (Painkiller was on 60 Minutes? Get out.)"
Here's a look at the game trailer. Hey, if they can give it a plot and make it scary, who knows? Maybe it would be one of the first decent games made into a movie.
Read More