Now and Forever Ray Bradbury Fans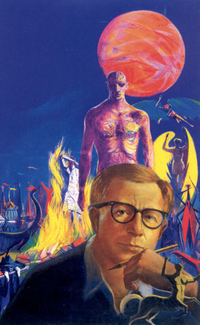 This summer there's a brand new Ray Bradbury book getting published.
Mind you, it's a collection of previously unpublished work. The new volume, titled Now and Forever, will include the novellas Leviathan '99 and Somewhere a Band is Playing as well as some of the author's experimental drafts and earliest writings.
Bradbury started writing Leviathan '99 in the 1950's as a radio script. He re-imagines the tale of Moby Dick setting it in the year 2099. The story follows astronaut Ishmael Jones aboard the a spaceship whose mad captain searches for a great white comet.
Gauntlet Press calls Somewhere a Band is Playing "vintage Bradbury." The book follows a reporter who hops off a moving train and lands in a bucolic town where no one dies or grows old. The author has been working on it for over 50 years. He began writing the story for Katherine Hepburn, after seeing her in the film Summertime. Bradbury wrote it hoping she would someday make it into a movie. (She did not.)
The 87-year-old-Bradbury (whose birthday is today) is still writing. He suffered a stroke in 1999, so his writing process consists of dictating his work over the phone to his daughter.
Now and Forever is in stores September 4th, Somewhere a Band is Playing is on sale now.
Read More