Nosferatu: The Best Vampire Film Ever?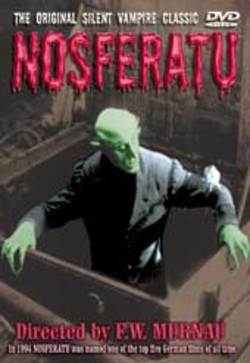 Nosferatu still gives me the creeps. I imagine going into a movie theater when films were still new in the 1920s, when horror onscreen was even newer. There's silence. Then, the organ player's a little crazy, a little nuts, arpeggios everywhere. My heart starts beating in the dark, so hard, it could pop.
And when the film starts, almost everyone in the first five minutes looks insane or schizo or paranoid. And the words, "Well, young man. You can't escape destiny by running away" are so creepy. A silent film, yes. But the terror still fills my head: what if Dracula came to buy your house? Would you invite him in? Would you make tea? Would you give him your neck? Would you let him or her have you? Or would you have the vampire?
Happy horror Friday, folks. For your viewing pleasure, here's Nosferatu in its entirety on YouTube. Have a marvelous journey, even if it costs you some pain, or even a little blood.
Read More