No, Virginia, Firefly's Themesong Does Not Blow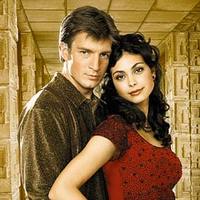 Colors… Pretty has posted up a fairly decent list of the best and worst intros in sci-fi television. But one inclusion in their worst television intros really honks my hog: Firefly? Dubyoo Tee Eff, Interrobang!
I realize that the folksy crooning of the Firefly theme song isn't everyone's cup of tea. it's probably just as widely reviled as the Enterprise theme song. But there's a difference: Firefly's theme is not only good, but it serves a dramatic purpose.
The main theme of the song is the unconquerability of the spirit coupled with the sense of loss associated with exile from your home after military loss. In the thirty seconds of the intro, the whole show is explained: the music evokes the western genre, even though new viewers would surely come to it as a straight sci-fi show, and it perfectly explains not only the universe in which the characters live (in which they are voluntarily exiled from their homes after a failed rebellion that was ruthlessly quashed) but their indefatigable, restless spirits as well.
But more than that: it's a good song. Unless you have an irrational hatred of anything that smacks of instrumental country, it's hard to think of a song that is more perfect for Firefly's spirit of explorative loss. Would a hard rock theme really have been more appropriate?
Firefly Theme Lyrics And Song [Firefly Wiki]
Read More