Nilbog Is "Goblin" Spelled Backwards!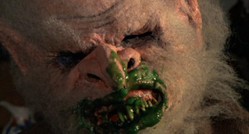 Not that anyone could have ever predicted it, but it's looking like Troll 2 is becoming one of the biggest cult movies of our time. This Italian-made 1990 sequel to John Carl Buechler's 1986 epic has been selling out theatrical screenings all over, with original cast members often in attendance. Check out a list of upcoming screenings, including St. Louis, New York and Atlanta, right here.
Troll 2's appeal is that it truly is horrible and extremely funny at the same time. It's OK to laugh at Troll 2 (unlike some other horror sequels) because it's not like it's a misunderstood classic; it really is that bad. Bad acting, terrible direction, and awful special effects make this one a must for all bad movie fans.
Now, the Troll 2 phenomenon is being immortalized in the upcoming documentary Best Worst Movie, directed by the film's star, Michael Paul Stephenson, who is interviewing the film's cast, crew and fans about what makes Troll 2 so good at being bad. Included in the documentary is my friend Zack Carlson, who sports a Troll 2 tattoo on his left arm. You can see it all happen in the teaser trailer at the official Troll 2 site right here.
Read More