Neuromancer Radio Dramatization Up For Download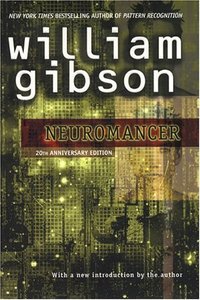 Along with Snowcrash, William Gibson's Neuromancer is one of the novels that most define that cyberpunk genre.
Neuromancer is the story of a talented computer hacker and thief, who makes the mistake of stealing from his employers who retaliate by destroying his central nervous system, making him unable to plug into cyberspace. Eventually, with the help of Molly Millions — a street samurai and assassin with enhanced strength, speed and reflexes — he is given a cure to his neurological damage in exchange for pulling off one last and seemingly impossible crime.
It's a fantastic read: if you've never read it before, you'll be amazed at how many of the concepts and ideas Gibson came up with twenty years ago have since become commonplace. Movies like The Matrix and Johnny Mnemonic owe a huge debt to Gibson.
A film version is currently in the works, disconcertingly headed by the same guy who directed the cheap Fast and the Furious clone, Torque.
But if you're too lazy or illiterate or just plain busy to read Neuromancer, you've got another option: a fantastic radio dramatization of the book is now up online. There's worse ways to wile away the drudgerous limbo of rush hour.
Neuromancer Radio Dramatization [Link]
Read More