More Heroes Season 2 Hints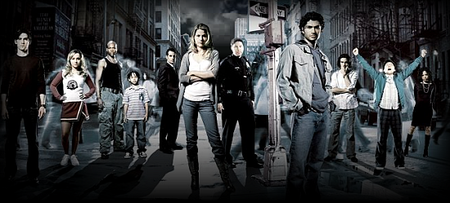 I just rewatched the first season of Heroes and I'm chomping at the bit for Season 2 to start in September. Buzzsugar has posted up a round-up of Season Two hints that have come out of the press tour, and while some of them are no surprise, it's at least some news to chew on.
Here are the ones that caught my eye:
• The start of the season will take place in two parallel time lines: one in feudal Japan, and one four months after the explosion of Peter Patrelli. Of course, Hiro being a time traveller, there's nothing that says he won't star in both timelines.
• A new hero is joining the show: "Dania Ramirez is joining the cast as Maya Herrera, who — according to an NBC press release — is "plagued by a threatening ability" that drives both her and her twin brother (played by Shalim Ortiz) to cross from the Dominican Republic to the United States in search of help."
• Ali Larter will be integrating her character's Niki and Jessica personas. As interesting as the schizo dynamic was with that character, I have to agree it doesn't have too much long-term potential. I'd rather find out more about the genesis of the Jessica persona.
I'm looking for Season Two, but on second viewing, the finale did seem a bit toothless, and what we know of the next season's cast essentially points to the fact that Season One had no long term consequences: everyone who is important is still alive and will be coming back. I find myself wishing a bit that Tim Kring had stuck with his original vision of a show with a cast that revolved each season.
What's Next on Heroes [Buzz Sugar]
Read More