Justice League Movie Going CGI Route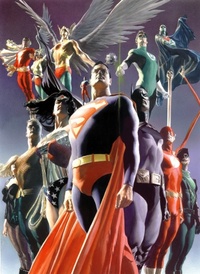 It's no secret that Warner Bros, galvanized by the success of their Superman and Batman films and envious of Marvel's solid track record of superhero successes like X-Men, is working on preproduction for a Justice League America movie. Hell, it's so not a secret that I can mention that my old upstairs neighbor was asked if he was interested in directing it. He wasn't.
But there've been a lot of questions on how it's going to be done. After all, Warner Bros. already has two franchises running that contain two of the main characters,. Superman and Batman. Would they bring in Brandon Routh and Christian Bale for the JLA film? Or would they cast these characters with new actors?
Neither option actually seems all that satisfying. But Warner Bros. seem to be leaning towards an interesting solution: a CGI film with motion-capped actors, much like the upcoming Beowulf.
That could be really excellent, lending it a shade of the excellent WB cartoon series Justice League's appeal. What I'd really like to see is them do it in the style of the old Max Fleischer Superman shorts though.
Slow Down Betty! Justice League to be a CGI/Mo Cap Film? [IESB]
Read More