Joss Whedon Gives Hope for Serenity II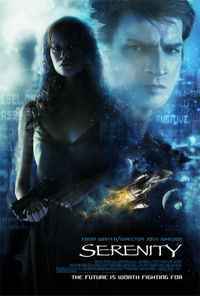 Excellent news for Browncoats! In an interview with Rope of Silicon, Joss Whedon — creator of Firefly and Serenity — gave fans some vague, brief hope for a Serenity sequel to come.
RS: So give me hope for a Serenity II
JW: Hope for it probably rests with this DVD.
RS: So then you're saying we've got a chance?
JW: Well it's probably not being discussed in boardrooms right now, but the fact of the matter is if it makes enough money sooner or later they say "hey, this is money!" Also there are paradigms that are much cheaper, it doesn't have to be enormous. But on the other hand I'm happy to say all of my actors are working very hard. It's not the same situation where we all threw in for pennies because we had to finish telling that story. Now that situation might be harder to bring about.
That's not much to go on, but just enough to titillate. I think every Firefly fan hoped and prayed Serenity would somehow undo the unjust Foxing the show got. This is as good a reason as any to buy the Serenity collector's edition DVD, especially if you've never seen it before.
Interview with Joss Whedon [Rope of Silicon]
Read More