Inventor of the Slasher Film Gets 1100 Pages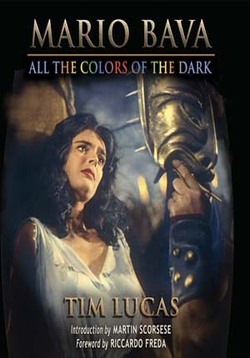 The massive sound of relief coming from Cincinnati has nothing to do with how the Reds are playing. Rather, it's coming from the offices of Video Watchdog magazine.
That's right, Tim Lucas' epic biography on Italian horror master Mario Bava, Mario Bava: All The Colors Of The Dark, is finally finished and shipping to customers. And they said this day would never come.
Bava is, of course, the influential director behind such genre masterpieces as Black Sunday and Blood and Black Lace, in addition to such lighter fare as Danger: Diabolik.
A master with the camera (he had a talent for making his low budget films look expensive) he brought a new kind of style and wit to the horror film and his Twitch of the Death Nerve is often credited with being the first slasher film. He was a mentor to Dario Argento, and such diverse talents as Martin Scorsese (who wrote the book's introduction), Joe Dante, Tim Burton and Guillermo Del Toro have cited him as a major influence.
Lucas, who has been writing the book for over 20 years (some of his interviews date back to the 1970s!) while also editing his monthly Video Watchdog magazine, is self-publishing this massive tome (over 1100 pages!) and is currently spending his days and nights shipping it out of his house (check out his blog for updates) to the hundreds of customers who have been awaiting anxiously for close to a decade. Despite a pretty steep price ($250), we suspect it's worth the wait.
Read More