Invasion Trailers, Old School and New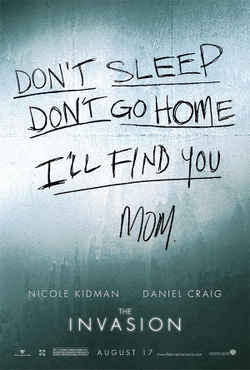 Today's debut of The Invasion is the third Invasion of the Body Snatchers remake. Sure, despite poor reviews, I'll see it: it's got Nicole Kidman, after all. But here's my question to you. Which has the better trailer or, in Body Snatchers case, clip? Check 'em out below and let me know.
Invasion of the Body Snatchers (1956) — "A cursed, dreadful malevolent thing was happening to those he loved!"
Invasion of the Body Snatchers (1978) — "From deep space, the seed is planted. Terror grows!" And with Amazing Grace playing in the background!
Body Snatchers (1993) — Nudity alert. Lots of screaming in the clip. Couldn't find the trailer anywhere.
The Invasion (2007) — "Something's happening. I don't know what it is. But I can feel it. Have you noticed anything?"
Read More