Invasion of the Body Snatchers (1978) Collector's Edition DVD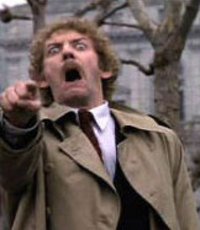 I've always had a great deal of fondness for Philip Kaufman's 1978 remake / pseudo-sequel to Invasion of the Body Snatchers. Although the original is justly a classic, I think Kaufman's moody, paranoid vision of an alien invasion is even better, and nicely updates the film to a time of political and social upheaval. Even Pauline Kael loved it, calling 1978's Invasion "maybe the best film of its kind ever made."
But it's been years since I've seen it: it seems curiously hard to find on DVD. So I'm delighted to read that a collector's edition DVD — succulent, fat, with all the trimmings — is due next week.
The DVD release is widescreen with a commentary by Philip Kaufman (who shoved so many homages and references into the film that I'm sure his observations on the making of the film will be fascinating). The extras will include a documentary on Invasion of the Body Snatchers called "Re-visitors from Outer Space or How I learned to Stop Worrying and Love the Pod" and another documentary titled "Inside the Pods: Examining the Invasion." I am assuming this latter feature is critical commentary on the film.
It's still hard for me to believe that Hollywood has felt the need to remake this film twice since Kaufman filmed his version: 1978's Invasion of the Body Snatchers is a seminal sci-fi classic, and no remake since then has brought anything new to the table (although I must admit to cheering the end of Abel Ferrara's Body Snatchers every time, when Gabrielle Anwar drops her twerpy little brother out of the helicopter).
Invasion of The Body Snatchers Collector's Edition DVD [Slice of Sci Fi]
Read More