Introducing…Poets Speaking in Klingon About Boba Fett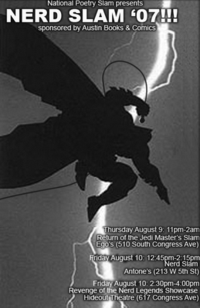 Last week Austin, Texas hosted the National Poetry Slam.
You probably think you hate "spoken word" — but do you know about "Spoken Nerd"? It's an exciting sub-genre in which the geekiest** of poets express their passion for Buckaroo Banzai, Pac-Man and The Incredible Hulk.
The National Slam featured three "Spoken Nerd" events, as they've proven to be the most popular reading series.
The poets themselves are serious, even if their poems are about Blade Runner. But don't be fooled, these poems aren't novelty acts. (Although one poet does speak in Klingon from time to time.) The poems are works of art, they're crafted by true wordsmiths. Some poems even have social criticism — in "Sweet Christmas", a poet explores the history of black super-heroes in American culture.
If that's not impressive enough, one of the featured poets is Ernie Cline — the screenwriter of the upcoming film "Fanboys" .
HEAR Ernie Cline ranting about his love of "Airwolf."
WATCH Shappy Seasholtz perform "I Am That Nerd."
HEAR Mike Henry's account of revisiting "Star Wars" Episode IV – VI.
READ Mike Whalen's tribute to the first time he watched "Conan The Barbarian."
SEE a spoken word haiku.
This is your chance to support the arts and support the nerds.
** I mean "geeky" in the best way.
Read More