In Theaters: The Invasion of "Them"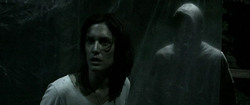 Horror fans have a choice at theaters this weekend – a big-budget horror remake with big name stars, or a small, foreign-language film, made for next to nothing, that's been a hit at festivals everywhere.
The Invasion is, of course, the major studio title, a new version of Invasion of the Body Snatchers set in Washington, D.C. and starring Nicole Kidman and Daniel Craig. It's been getting a lot of press, but not all of it positive. The release has been delayed (it was supposed to be out last summer), much of it was re-shot (rumor is the Warkowski Brothers changed over 2/3 of the script and V for Vendetta director James McTeague was brought in to helm the new material) and the film isn't screening for the press until tonight. Still, the storyline has been popular with audiences through multiple movie versions and the Washington setting for The Invasion seems inspired, so who knows?
I do know, however, that Them (no relation to the giant ant classic of the 50s) is a sure hit. I saw it at the 2006 Fantasia Film Festival and loved it. This is a simple "home invasion" movie (inspired by true events) that supplies non-stop thrills for a lean 75 minutes. Easily the most suspenseful film since The Descent, Them is opening on a city-by-city basis, with New York this week and L.A. on September 7. Look for it in your local listings. This is one of the scariest movies of the year.
Read More