Illusion: On-Demand Sci-Fi TV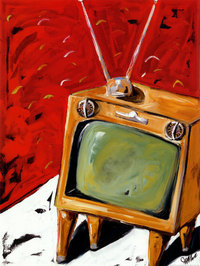 A new Sci-Fi channel is coming to town, and it's aiming to offer genre fans something none of the other networks will: on demand science fiction shows, movies and news.
Illusion On-Demand is billing itself as the first and only dedicated science fiction and fantasy on-demand channel and will be launching nationwide in October. The initial programming promises live-action premiers, award-winning films, anime and news, and will be launching with a library of over 300 programming hours, including the anime series Now and Then, Here and There, the BBC series Strange and my favorite gore and schlock obsessed New Jerseyites, the Troma Boys, with The Troma Creature Feature.
It sounds like a pretty swell idea. They are claiming to be launching free to consumers on numerous carriers. I'm a bit out of the loop on American cable (I live in Germany) so I assume this means that programming will continue to not only be user-programmed but free. As both a sci-fi fan and an enthusiast with Web 2.0 branded on my forehead, I love the concept. Let's hope they follow through.
Illusion On-Demand [Official Site]
Read More