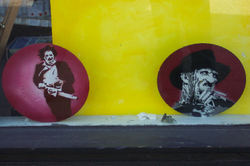 This happy pair of record albums was spied in the window of a prominent art supply store in what the kids call Capital Hill in Seattle. Who would have expected to see terrifying icons of horror next to the poster boards and acrylic inks?
That's just it, horror nestles into places. Waiting, lurking…seeping into the cracks of your peripheral consciousness. That's right, seeping. So, we've proven that horror imagery wasn't…Seepless in Seattle.
Have a picture of Horror in the Wild? It can be a poster at your local cineplex, a cool girl's Hellraiser back tattoo, a billboard you pass on the highway or even a cool girl's Hellraiser back tattoo. We have a special address for the specific purpose of collecting those photos. It's monsterfestpics@gmail.com
I made it for you, goatlings, with my own shaking hands. Fill it.
Oh, the Bauhaus coffee shop in Seattle is the perfect setting for a horror movie (or any movie. Your Todd was deeply impressed)
Read More