Horror Do's and Horror Don'ts: Face Paint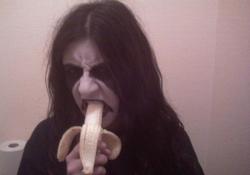 What's scarier than…potassium?! Even the Imps of the Bad Place need their daily allowance of fruits and vegetables.
Here's Todd's guaranteed laugh of the week. No, not this person, who clearly has their tongue in their cheek (which they must be careful not to bite), but this: Sing the Day-O Banana Boat Song to yourself in a Dracula voice. Peels of merry laughter will ring 'cross the meadow! I am shaking now, laughing so hard!
When you get to the "daylight come and I vant to go home" part you will wonder why this hasn't been done as a vampire parody song before. Anyhoo, goatlings, your man Todd is full of selfsinglove this morning. It's a German word. Look it up. For a few more pics, take the leap!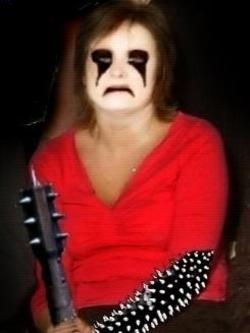 I guess what sells this one for me is the combo of Forever 21 clearance sale top and leather weaponry. Hey, girls if you can rock the top and the plus-three mace of style-smiting works, go for it!
These pics come from ratemycorpsepaint.com, btw. Hours of international fun.
Ultimately, though, I am going to rate her a Horror Do. Gasp! Sputter! Shock! I'll tell you why. I think that if some kind of Corpse Beam were to be leveled at the earth, wielded perhaps by some sort of interstellar Death Cult, this is what the people would look like. She's an ordinary woman blasted by the Corpse Ray!
Celebrities, they're just like us!
Have a cool corpse paint or movie-inspired costume pic? Send it to our monsterfestpics@gmail.com or…we fire up the engines of the dread cells which power the Corpse Ray! You won't feel a thing, goatlings, and it will be too late!
Day-O. Day-Oooooooo! I love myself this morning! Full of selfsinglove!
Read More