Heroes' Sylar To Be Replaced With More Fearsome Baddie?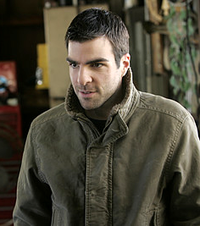 Psychokinetic. Psychopathic. Brain-devouring. Sylar — the main villain of Heroes Season 1 — was, at least at first glance, as bad-ass as villains come. But ultimately, he was beaten up by a pretty boy and a dorky Japanese guy, leading many to feel deflated by the season finale. Sylar, as a villain, had lost a lot of his ominousness by the end.
But Heroes creator Tim Kring is out to change that impression when Season 2 comes around. Kring promises an all-new villain in Season 2 will be a lot more fearsome.
We've already had glimpses in Season 1 of this villain: rumor has it that the cockroaches seen scurrying around Sylar in many scenes are somehow related to the new baddie. Additionally, Molly claimed at the end of the Season 1 finale that this villain could invade the dreams and nightmares of other characters. The character's power appears to be some sort of Omega-level psychokinesis.
The rumors are also flying that Sylar was rescued by said villain, and that Quinto will become a good guy or anti-hero in Season Two. Of course, there's not much to go by, but for Heroes aficionados, each crumb is to be devoured like the last meal of a starving man… at least until September 24th.
New Baddies On 'Heroes' May Make Sylar Seem Tame [SyFy Portal, via < href="http://www.sfsignal.com">SciFi Signal]
Read More