Ha Ha Funny & Ha Ha Strange Horror Shorts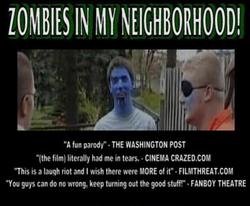 The Web is both a treasure trove and a dumping ground for horror movie shorts and parodies But on this Monday when the dark clouds burst with The Devil's Rain, I thought I'd pass on some short film links present vids that are actually pretty darn good.

Zombies in My Neighborhood — Parody-filled behind the scenes short about the fictional making of the worst film of all time. Love those dancing zombies.
Disposer— This serious scarefest, inspired by the evils of phone sex, sure knows how to build up tension. Warning: it's R-rated.
The Blair Witch Project — Takes a while to get going, but it has a few really humorous moments. And I adore the stupid flashlight.
Read More