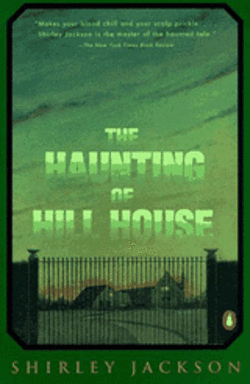 Why are houses scary?
Because they're alive.
Houses can have two kinds of life to them. They can…
1) Contain ghosts (people whose lives – and deaths – have unfolded within them, and which play out again and again like the flickering figures in an old tape-loop movie) or else they can…
2) Be alive in and of themselves.
These latter kinds of houses possess actual personalities, so that when we look at their windows we feel like they are looking right back at us, even if no one is standing in them. When we walk down their halls, we don't need to see anyone standing at the far end to feel like we're being watched or waited for. The houses themselves are doing the watching.
The Haunting's Hill House is the latter kind of house. Though ghosts walked its ever-so-slightly crooked halls, they were secondary to the overarching personality of the house itself. Houses like this are actual entities, and their scariness comes, in part, from the fact that they capture and devour their victims like carnivorous plants do: by holding still and waiting for them rather than chasing after them actively.
The Overlook Hotel was alive in both of these senses equally, as was – in a way lesser key – that house with the pig out in Amityville. But most haunted houses tend to be more of one kind than the other. Alfred Hitchcock produced two extremely effective houses with "personalities": one in Rebecca, and the one Norman and his mother inhabit in Psycho. The best recent example of a pretty good ghost-crowded house is probably the big Spanish one featured in The Others. (The exteriors of which, if you ask me, work way better than the interiors, which have the clean, hyper thought-out, but ultimately unconvincing look that haunted houses so often have in today's films. Five minutes of the house at the end of Blair Witch packs more creepiness and more mystery than most high-budget spooky houses manage to generate in two full hours.)
When a house is really working in a horror film, there are, in my opinion, few things better. Yet how often does that really happen? One of the most mysterious things about haunted houses of any kind is how few really great examples of them there are in the movies. The kind where the house — a creation of human hands – has somewhere along the way become much more than that.
(By the way: "G" is for "Guts" – and we covered those a while back.)
Read More