Flash Gordon Premieres Tonight on SciFi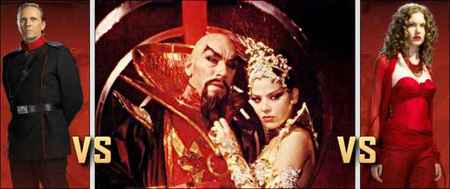 Just a reminder: the Sci-Fi Channel's new show, Flash Gordon, is premiering tonight at 9/8 central, after the newest episode of Doctor Who.
Will it be any good? Your guess is as good as mine. Me? I'm not holding out hope. I admit, the Anglo-Saxon, Family Man Ming rubs me the wrong way entirely: racist or no (and I don't think it really is any more racist to have a Caucasian-looking alien overlord over an Asiatic-looking one), everything about the show and the cast looks utterly cheap.
Consider the costumes above. On the left and right, the Flash television series' Ming and Princess Aura. Smack in the middle, Max von Sydow and the luscious Ornella Muti in the same roles. Notice that Sydow and Muti look as opulent and exotic as one could hope from extra-terrestrial royalty. On the other hand, their new counterparts look like they've been dressed in the cast-off wardrobe from the Battlestar Galactica set.
I suppose we'll see soon enough. Consider this post an open comment thread for your impressions of the show. Since I won't get a chance to watch it tonight, I depend upon you, my lovely sci-fi droogies, to appraise me of the show's suckitude.
Image via Derek Meister.
Read More