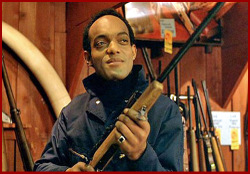 This has turned into the Week of Personal Experience. I reckon we're all gazing inward just before the big seasonal onslaught of "must sees." Let's steal a page from the Classics Dept. and talk about our favorite quotes.
Two of mine are from From Beyond. I'm listing them as my favorite, since I use them all the time. That's the ultimate answer to this, goatlings, not just a list of the coolest sounding quotes, but sound bites you've integrated into your regular everyday speech.
For example, when they approach the mad scientist's house, it's dark and creepy outside, and Ken Foree (pictured! but from a different movie! I just liked the gun!) says in a gallows voice, "Not exactly…cheery." I say that all the time! Just like he says it.
Also, when the subway is about to burst into the tunnel, and I can feel the wind, I think…"some thing's coming!" just like Ted Sorel says it when the dimensional walls are vibrating and the eels are about to come pouring in. Practical use for horror quotes! Tell me some you use. Here's a cheat sheet from A Nightmare on Elm Street.
Read More