Farewell To A Legend: William Tuttle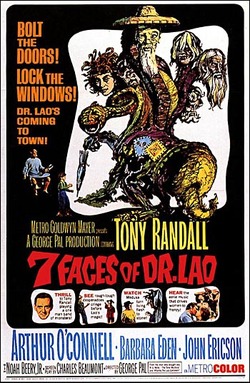 Before there was Rick Baker, Tom Savini, Stan Winston and KNB, William Tuttle was one of Hollywood's most respected makeup artist and pioneer of special makeup FX.
Tuttle was the former head of the makeup department at MGM, where he worked on such classics as The Wizard of Oz, North by Northwest, and Singin' in the Rain. He created memorable creatures such as the Morlocks in The Time Machine and for classic episodes like the "Eye of the Beholder" of The Twilight Zone TV show.
But Tuttle's greatest makeup creation was for George Pal's fantasy The 7 Faces of Dr Lao, where he took character makeup to a level never before experienced by movie goers.
In 7 Faces, Tony Randall plays the mysterious Dr. Lao, who rides into a small Arizona town with circus in tow and brings with him seven fantasy characters – all played by Randall under heavy makeup. It was the combination of Randall's performance with Tuttle's revolutionary makeup that won him an honorary Oscar. It was the first time any makeup artist was recognized by the Academy – a full 17 years before make-up and FX became an award category.
Tuttle went on to create makeup for Young Frankenstein and The Fury (working with Rick Baker) before retiring in the early 80s.
Sadly, Tuttle died last week at the age of 95, leaving behind an amazing legacy.
Read More