Fantastic Voyage To Be Remade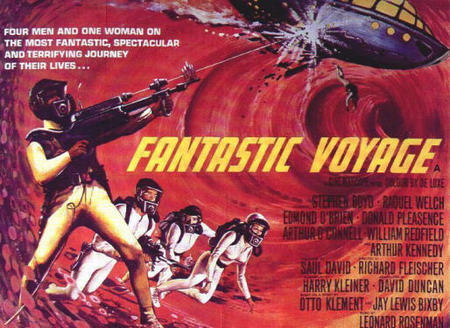 I'm always really dug the premise of Isaac Asimov's The Fantastic Voyage (and the wonderful film that resulted). I love the concept that the last unexplored frontier is our gooey insides. I love the idea of innerspace cosmonauts fitted out in scuba suits fighting gelatinous white blood cells for their very survival.
So I'm fairly excited that Hollywood has a remake planned, directed by Roland Emmerich, the director behind The Day After Tomorrow, Independence Day and Stargate.
Emmerich isn't what I would consider an auteur, but his films are goofy fun, which is the sensibility required for The Fantastic Voyage. James Cameron is also onboard as producer, which is another coup.
Let's just hope that together, these guys can remember to do what the original film makers didn't: get the submarine out of the guy's body before the time limit kicks in and it grows back to normal size, exploding the poor Soviet scientist.
Emmerich Takes Us On A Fantastic Voyage [Slice of SciFi]
Read More