Fact vs. Fiction in Sci-Fi Fashion: Android Earpieces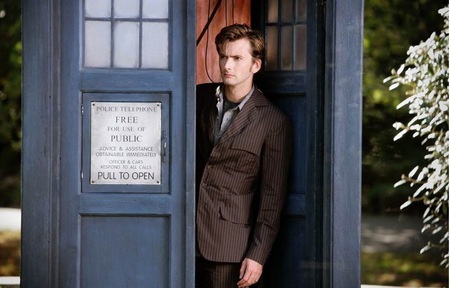 Fiction: There was a time when a standard television aerial protruding from the cranium or inserted into the ear canal was a ubiquitous indicator of futuristic technology. The antenna ear piece graced the noggins of science-fiction's finest: from sci-fi serial spacemen with antennas on their fishbowl helmets to massive computer earpieces worn by 70's-era cyborgs, no one doubted the future of the aerial, implanted firmly into the human skull.
Fact: And oddly enough, in this regard, the future hasn't let us down. Prancing solipsistically through our cities, mumbling to themselves, an entire generation of businessmen wear antennas bluely glowing upon their ears. While these earpieces are not communication devices by themselves, when paired to a Bluetooth-enabled mobile phone carried in the pocket, they are very definite spacemen technology. In fact, that's the odd part: there's nothing futuristic, alien or robotic about them at all anymore. Just another small example of how mankind is casually embracing the spirit of transhumanism.
This Week's Fact vs. Fiction in Sci-Fi Fashion was suggested by rl. Got an idea for a future entry in this series? Leave us a comment, along with your URL (if you have one), and we'll credit you if we choose to do it.
Read More