Exclusive: Ozzy Osbourne's Favorite Horror Movies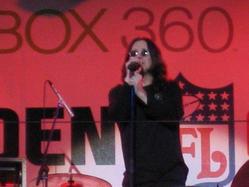 I met the devil and he was charming as hell. Yesterday at the Hard Rock Cafe, I caught up with Ozzy Osbourne, who was here in the wormy Apple promoting Electronic Arts' compelling new Madden NFL 08 and his song, I Don't Wanna Stop, which appears prominently on the football game's soundtrack. Once I had him cornered, I had to ask the affable Prince of Darkness about his favorite horror movies.
Says Ozzy, "I like them crazy ones like They Saved Hitler's Brain. I like Re-Animator, too. I like them hokey ones."
HIt the jump to find out which film really made Ozzy's skin crawl. (Photo: Helen Pfeffer)
"I remember when I first saw The Exorcist with Black Sabbath in Philadelphia." Ozzy grabs his head and opens his eyes wide, saying, "It freaked us all out. We wanted to go see The Sting afterwards just to get our minds off of it. The effects were so new. That's part of what made The Exorcist scary. It wasn't like the old Hammer films where you could see the wire that made bats fly."
Read More