Exclusive: Horror Master John Saul Talks Movies & Books!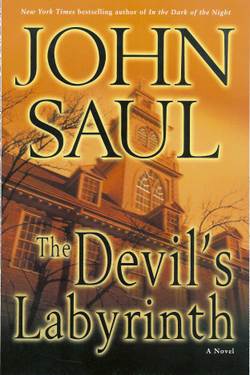 After writing 34 books, John Saul is considered to be one of the great masters of horror, a nose-to-the-grindstone craftsman who finely hones his work to build — slowly and carefully — sheer terror for his millions of fans. Here, John talks about his creepy and new "The Devil's Labyrinth," his work ethic, and why Hollywood hasn't given him the props he deserves.
1) What would you say to tantalize the reader and make him want to read The Devil's Labyrinth?
I would say, read the back cover:
There is a picture of a specific Labyrinth and then the following lines: This symbol appeared in the 4th century in the catacombs of Rome. This symbol appeared in the 16th century on a scroll in Spain. Now this symbol is about to appear beneath an historic building in Boston.
This is the Devil's Labyrinth.
Hit the jump and see much more — including what scares the man who scares you.
2)
Was there anything in the writing or the research of the book that actually
scared you? What was it?
Seeing
the catacombs in Rome was unnverving to say the least.


3)
You've written, I think, 34 novels now. How do you stay fresh and why do you
still want to do it?
This
is my job. I consider myself a craftsman
and my job is writing a thriller every 12 months or so. Inspiration for story ideas come from many
places: conversations, news articles, a dream. But I don't wait for my muse. I
get up in the morning and I start telling the story, scene by scene. I try to tackle topics that will tell a good
story in a full length novel. I don't
want to repeat myself, however I can't go too far from my genre and style or I
will disappoint my readership. It's a
balancing act.
4) The Devil's Labyrinth is more complex plot-wise that a couple of the John Saul
books I've read. It's quite a job of weaving characters and places and
time-lines. How did you come up with the idea and how long did it take you plot
and then how long did it take to write?
Plotting
for D.L. took about three to four weeks. I do a complete outline prior to writing the
book. It's broken down scene by scene,
so when I begin the prose I know exactly what has to be in
it.
5)
Why would or wouldn't the new book make a
good horror movie?
I,
personally, think it would make a really interesting horror movie. The setting and the action are really creepy
and what's at stake is very dramatic.
6)
Are all of your books optioned for movies? Why haven't John Saul books seen
adaptations to the big screen?
I
can't answer this question. Many of my
books have been optioned by Hollywood, but for some reason they never get out of development. I have no idea why my books have not made it to the big screen. I don't think a cogent answer exists.
7)
What are your favorite horror films?
I've got to tell you I don't watch horror films. I frighten very easily. I have to sleep with a night light. It's one of the reasons I feel I've been
successful.
If
it scares me I think it'll scare others. Also, I don't want to dump a good idea if someone has just produced a
novel or film that is similar. And I
don't want to unconsciously copy an idea that appears in a horror movie or
novel. I think the last scary movie I
saw was Psycho. I spent most of the time
in the lobby.
Read More