Down on the Dead in Brooklyn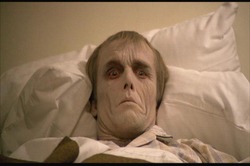 George Romero's Dawn of the Dead was screened at the Brooklyn Academy of Music last night (in a very nice print) as part of a special film series selected by actor Paul Giamatti. Theatrical screenings of this classic are incredibly rare, and the 6pm showing was introduced by producer Dick Rubinstein. I couldn't make that show, but I wish I did after what I went through during the 9pm show.
The crowd's laughs started during the opening shootout and pretty much kept going throughout. Every moment of drama that has always struck me as genuine and touching- including the scene where where David Emge's character asks Gaylen Ross to marry him – was laughed at. Is there no room for serious sentimentality in a Zack Snyder/running zombie world?
Romero' stories are often about the working class world and one of the things that makes Dawn so great in my mind is how true Romero is to this world. We all know that Dawn of the Dead has many humorous and
satirical moments, but sadly, this Brooklyn hipster crowd seemed intent to dismiss the whole movie as an exercise in silly camp.
Read More