Does Star Trek XI Have Its Uhura?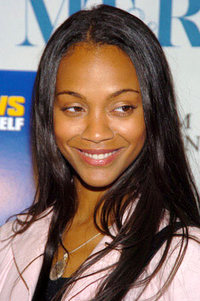 I don't generally take too much stock in fan rumors, but considering how the rumor mill aced their identification of Zachary Quinto from Heroes as Star Trek XI's Mr. Spock, I'm inclined to give this one a little bit more stock.
TrekMovie.com is now reporting that J.J. Abrams has found their Uhura in the stunningly beautiful Zoë Saldana… who you may knowas the lusty pirate lass Anamaria from Pirate of the Carribean: The Curse of the Black Pearl.
This makes three actors identified: achary Quinto as Spock, Anton Yelchin in the role of Pavel Chekov and Saldana as Uhura. Honestly, she seems like an excellent choice, although I'm mostly going by her beauty… if I were to be cynical, I'd say she doesn't quite have Nichelle Nichols no-nonsense demeanor.
Come on, Abrams. Announce your Kirk!
Zoë Saldana May Be The New Uhura [TrekMovie.com]
Read More