Dean Cain To Guest on Smallville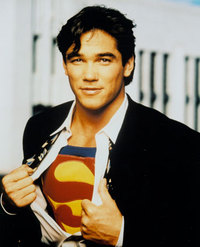 The Adventures of Lois and Clark was good, goofy fun. That's probably the reason why I don't remember much about it: it hearkens back to a time when television executives only saw comic books as a fodder for camp. But I remember liking it at the time, for the reason of Dean Cain's schoolboy charm and Teri Hatcher's less thespian but more voluptuous qualities.
So it seems, well, nice that Dean Cain will be making an appearance on Smallville next season. His role will be small: Cain will play Dr. Curtis Knox, a villainous killer. But it'll be nice to see the torch passed, especially since he'll be continuing a tradition of ex-Supermen playing Doctors: Christoper Reeve guested on Smallville in the second and third seasons.
Still, isn't there an opportunity being missed here? Why not cast Cain as a fellow survivor of Krypton and give the last two television Supermen one last chance to come blow-to-blow. Regardless of how you feel about Cain, I think the prospect is pretty exciting.
<a href="http://www.scifi.com/scifiwire/index.php?category=1&id=42973"Cain Flies To Smallville [Sci Fi Wire]
Read More