Dead Alive Snake Heads: You Make The Plot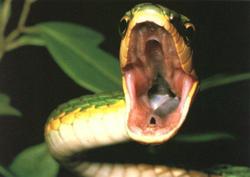 In my constant search for news of the eerie and odd, I came across a slithering blog item on the USA Today news site. Says the Science Buzz blog, "A rattlesnake's recently severed head
still had enough reflexes left in it or other biological properties to
be able to bite the finger of a rancher who had just used a shovel to
snap off the head."
The short item continues, "Last week a rural Washington state man was bitten by the decapitated
head of a rattlesnake. After finding the five-foot snake in the grass
while feeding his horses, the man immobilized the snake with a pipe and
whacked off its head with a shovel. End of story, right?
"Oh no. When he reached down to pick up the snake, the severed head
twisted around and bit the guy's finger. It took about 10 minutes for
him to get to the nearby hospital where anti-venom shots were given to
him just as his tongue was starting to swell." Ew!
Scientific American says snake heads are dangerous and can bite for up to 60 minutes after being severed.
In my horror-filled mind, I'd write a screenplay in which these severed heads could actually be controlled by an evil, hermit scientist who's obsessed with rattlesnakes and hates people (probably because they hate snakes). So, hundreds of living, poisonous, hungry snake heads kill off the folks in a dusty, rural town. What would happen next? Or, would you make a different snake head plot all together?
Read More