Darth Vader to Death Star to Unicron Transformer!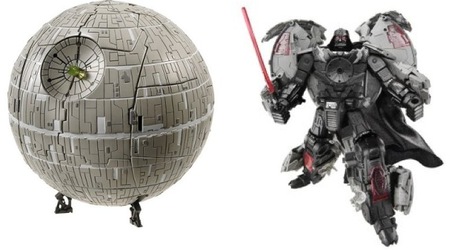 There has never been a Star Wars fan who didn't also nurture a single boner for the Transformers. A mash-up between both franchises was inevitable. But I never dared to hope for a Hasbro Star Wars/Transformers action figure like this: Darth Vader, changing into the Death Star, Unicron-style.
The figure's not out yet, but Amazon's taking pre-orders at 50 bucks a pop. The digure includes a Darth Vader pilot mini figure, 2 TIE Fighter mini vehicles and 3 storm trooper mini figures.
Hasbro Star Wars Transformer Deluxe Death Star [Amazon]
Read More