Dark, Edgy Oz To Be Stupid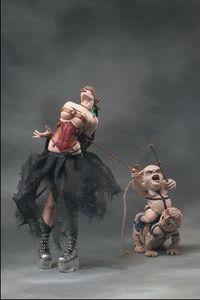 A general rule of thumb: anything described by a public relations weasel as "dark" and "edgy" is probably neither of those things.
Consider, for example, many of the attempts at a "dark" and "edgy" version of the Alice in Wonderland books, such as the video game (optioned for a movie) American McGee's Alice. The designers approach to making "dark" an already quite frankly pretty nightmarish and surreal little book? Making all the doors bent at a quite frankly insane angle, and having Alice carry around a butcher's knife. Genius!
Now, Warner Bros. is going to re-imagine L. Frank Baum's charming and timeless Oz novels as, you know, twisted stuff. It's going to be a compromise between two visions of a darker Oz, the first by comic book artist and toy designer Todd McFarlane, the latter by screenwriter Josh Olson.
McFarlane's vision of Wonderland? A buxom, bondage queen Dorothy and Toto as a rabid, snarling, monstrous warthog. An idea so predictable in its bottom of the barrel deviancy that it prompted one forum poster on Todd McFarlane's fan site to lucidly opine, "Dude… it's like The Wizard of Oz! ON CRACK! LOL!"
Olson's vision seems to be tamer, but who knows if he can temper McFarlane's idiocy? "My pitch was 'How do we get people who went to 'Lord of the Rings' to embrace this?' " McFarlane said. "I want to create [an interpretation] that has a 2007 wow factor. You've still got Dorothy trapped in an odd place, but she's much closer to the Ripley from 'Alien' than a helpless singing girl."
Stupid. For a look at a genuinely dark, edgy and depressingly overrated cinematic version of Oz, you don't need to look any farther than Disney's Return to Oz.
Warner Bros. Follows The Yellow Brick Road [Slice of SciFi]
Read More