Dan Dare Movie On The Slate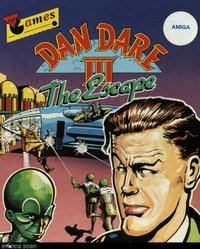 Although relatively unknown in the US, Dan Dare is the Buck Rogers of Great Britain. With his dapper smile, wavy eyebrows, perfectly coiffed hair and curiously alliterative and monosyllabic name, Colonel Dare is the chief pilot of the Interplanetary Galactic Fleet in a frankly unbelievable future where Great Britain is the last superpower still extant.
He's a classic character in Britain and his adventures are retrofuturistic sci-fi at its most charming. So I'm pretty excited to hear that Richard branson, chairman of the Virgin Group, has added the property to his empire and is planning on making a movie out of the series.
The story of the film involves Dare's adventures in a post-apocalyptic world in which North America and Asia have been destroyed and only Britain stands in the way of alien invasion.
I'm rather hoping that they go the route of Sky Captain and the World of Tomorrow on this. It would be all to easy (and it's been done with Dare before) to update the character with a darker, more cynical edge, but if handle correctly, this really could be an excellent outlet for paleo-futurism in a major Hollywood property… a niche solely overlooked by most studios.
The Resurrection of 'Dan Dare: Pilot of the Future' [Cinematical]
Read More