Cramming Star Trek XI Into TOS's Timeline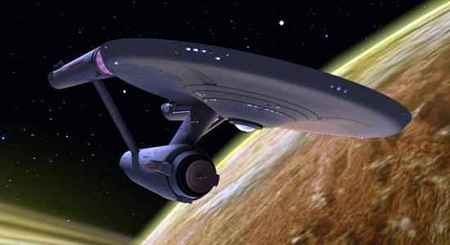 A few days back, we wondered if J.J. Abrams might not be casting too young for Star Trek XI. The leaked casting sheet (granted, not confirmed, and from the dubious source of the stenching beard necks at Ain't It Cool News, who are not well known for their predilection of separating fact from fantasy) seemed to be casting firmly in the early to mid twenties bracket. But shouldn't the crew of the Enterprise have been around the block a few times? And does the timeline even accomodate having an earlier mission with Kirk at the helm?
The former question's debatable: surely, for a crew to be "around the block" to begin with, they need to have made the first drive to the corner. But on the latter point, I'll let fans far more fervent than me speak. Samuel Sloan of Slice of Sci-Fi has written an excellent editorial positing how the crew could be crammed into the existing timeline:
I suppose Kirk could be in his late 20's to early 30's for this film. When he was a Lt. he taught at Starfleet Academy. That is where cadet Gary Mitchell introduced Kirk to Carol Marcus to sidetrack him. Their son Dr. David Marcus was the result of that love affair. Kirk was the youngest Starfleet officer to ever reach the rank of Captain at age 34…so, according to the character bios, Chekov is 12 years younger than Kirk. Let's see — Kirk graduated the Academy in 2254 nine years after the birth of Chekov. Graduated with the rank of Lt. and was assigned to the USS Farragut where he encountered the dikironium cloud entity that killed Captain Garrovick and Kirk temporally assumed command of the bridge. After his stint on the Farragut was over he became an instructor at the Academy still with the rank of Lt. where he rose quickly through the ranks and stayed until being assigned the Captaincy of the Enterprise in 2264. Since Chekov entered the Academy in 2263, it is possible Kirk knew and taught the young cadet in Chekov's first year, was impressed with him and asked for him aboard Enterprise when Chekov graduated in 2267 — 4 years after Kirk assumed command of Enterprise.
That's just a brief snip. Believe it or not, it gets even geekier, but after reading Sloan, I have a much clearer idea of the timeline and how a beginner's mission could be crammed in. Very much worth reading.
"Star Trek" XI – One Ardent Fan's Speculation [Slice of Sci Fi]
Read More