Bubba's Back but Bye-Bye Bruce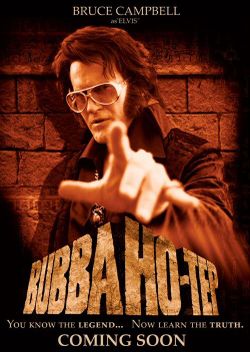 First, the good news:
Bubba Nosferatu, the long-awaited sequel to Bubba Ho-Tep, looks like it's finally going ahead, with writer/director Don Coscarelli returning and none other than Paul Giamatti playing Col. Tom Parker. Sounds pretty cool if you ask me.
The bad news? They have to find a new Elvis, because Bruce Campbell's sitting this one out.
Bruce appeared on Fangoria Radio Friday night and gave the bad news. "Bubba Nosferatu is dead to me. It sleeps with the fishes. Don Coscarelli is a very passionate filmmaker. We got to a few points [developing the screenplay] that we couldn't reconcile. I want to keep our friendship, so we parted ways. So I'm not part of that project." Coscarelli tells Fangoria that he's planning on recasting the role with another, as yet unnamed, fan-favorite actor, but can he ever replace Bruce?
Bruce Campbell's work in Bubba Ho-Tep was perhaps his finest performance yet, so for the film to lose him is like the Yankees losing Derek Jeter. Sure, a lot of actors have played Elvis, but few have made him their own like Bruce has. This better be a pretty amazing movie otherwise because he's almost impossible to replace.
Bubba Nosferatu just got less cool if you ask me. Read the rest of Bruce's interview with Fangoria here.
Read More