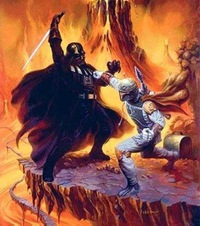 It's starting to look more and more like Bluray is making significant progress against HD-DVD in the format war of high-def DVD players. It's terrible for consumers, who have to worry about spending significant money on a format that will soon be put to death.
The latest salvo in the Bluray/HD-DVD wars? Following the lead of Sony's Bluray-only release of Spiderman 3, Battlestar Galactica is going high-def… but only on HD-DVD.
It's looking like a good set. The six discs will include the original miniseries, the entire first season of Galactica and a plethora of extras and commentaries. Of course, it'll set you back a pretty penny: $99.98.
And paying that for an HD-DVD box set of a show already released on DVD? It seems to me to be a pretty dimwitted decision. It would be one thing if HD-DVD were the only format, but what if Bluray wins? You'll just be buying the same set on BR in a couple of years.
Any smart consumer should hold off on high-def formats until there's a clear lead in the race.
"Battlestar" Coming to HD-DVD [Slice of Sci-Fi]
Read More