Box Office Numbers of the Beast – Invaded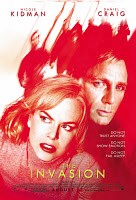 The Invasion had pretty weak marketing as evidenced by our having used up official poster options weeks ago and by it's weekend take of "just" six million. By all accounts, though, even Snakes on a Plane style hype might not have saved it. Alas for the pod people!
Just a few thoughts about numbers. In these months where Horror hides from the Summer sun, we've been reporting box office takes of a single million as doing ok, so it may seem goofy that The Invasion is considered a bomb with six. It's all about the budget, of course.
Hostel Part II with that girl from that thing can make a million and be fine, since it cost seven to make. The reported budget on The Invasion with the biggest female star in the world is $80 mil, and has got to be a little higher since there were so many re-cuts and it was sitting around for a year sucking up space in the edit suites.
Anyway, the original cut is in a dumpster somewhere singing that Had a Bad Day song.
It's like when you make those cloth trick or treat bags with the
embroidered Famous Monsters of Filmland on them and set up a table at
the craft fair, which isn't free, and everyone just sort of touches
them to feel the material and no one buys. so many lost hours! Am I
the only one who gets stuck with unsellable inventory? Boxes of these
things! Days gone forever. Relationships broken. credit ruined. A
celler full of grinning cloth Frankensteins. Why did I ever think I
could go into business for myself!? I should have kept my job at the
gas station. at least there were benefits! Will my cloth trick or
treat bags hold me at night? I'm like that kid with the wax wings in
that story! Oh, fortune!
Read More