Box Office Numbers of the Beast – Skinwalkers and DTV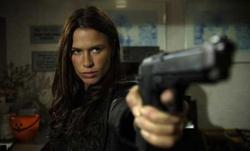 So, despite some reasonably good reviews from those who know (i.e. Our readers. That's you, goatlings), Skinwalkers had a pretty poor box office showing this past weekend. At least it showed up (though 18th place is sort of late to the party).
As we've been discussing, our genre of choice is just getting ready to go nuts on the mall megaplexes with Halloween leading the charge Aug. 31, so there's nothing to worry about, but let me ask you this:
To face Todd's dread question, take the leap! It's a good one. Don't cheat yourself and miss it.
There is a stigma attached to Direct to Video (just ask Bill Zebub).
The accepted wisdom is that something that goes straight to disc wasn't
good enough to "make it" in the theaters and will therefore be poor
quality.
The other accepted wisdom is that today people prefer to buy DVDs than go out to the theater. In many ways, releasing a movie in the theater is considered to be an annoying expense for production companies. They justify it as an advertisement for the DVD, essentially. We've sort of talked about this before, but I would like you to answer me these questions three:
1) Do you think, in general, a theater release indicates a movie is superior to a Direct to Video movie?
2) Do you think Skinwalkers will do better on DVD because it was released in the theaters first?
3) Do you think low-budget Horror movies should bother coming out at all during Summer Blockbuster month?
bonus question: Do you think that if a movie is released in the theater and tanks (I'm sorry, Captivity, you were very good to us with guests and footage, but I have to hold you up as an example here) it will be worse for the DVD sales or not impact them at all?
That's right. Monday comes out swinging! No soft issues here. Happy new week.
Read More