Box Office Numbers of the Beast: Right at Your Door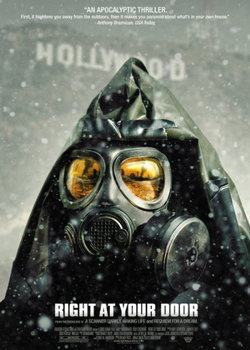 Is horror struggling? This very Friday should be the big tester, since that's when Halloween comes out, and I think in all the preparations for that this one slipped under the radar.
By this one, of course, I mean Right at Your Door which those sinister dudes in the Thrillers department slid over to our desk at the last possible minute. I had to make a panicked call to Mordicai (captured here) to prep for it.
With little marketing and on very few screens, it captured about $31,000. Not too hot, but it got some decent reviews. Maybe in wider release it can get a little more attention. It's really the only movie in the top 50 that comes even close to our genre of choice, and it does have a pretty cool poster.
I can't wait to see the numbers for Halloween. You know I'll be logging on to boxofficemojo.com and hitting "refresh" all Sunday.
Read More