Argento's Latest Premieres At TIFF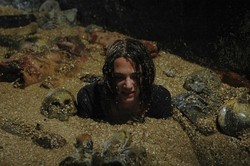 Let's see… U.S. passport… check
Airfare to Toronto… check.
Toronto hotel room… I'll find some place to crash, I'm sure.
Tickets are now available to the world premiere of The Mother of Tears, the long-awaited third film in Dario Argento's "Three Mothers" trilogy that began with Suspiria and Inferno, at the Toronto Film Festival.
Anyway, TIFF has just announced the final two titles at Toronto's Midnight Madness selection, and as expected they were the new Argento flick (which stars Asia Argento, Udo Kier, and former flame Daria Nicolodi) and Takashi Miike's Sukiyaki Western Django. Mother of Tears premieres on September 6 while George Romero's Diary of the Dead premieres two nights later.
Seriously, I need to get tickets to these shows. Does anyone have connections?
Read More