And Maybe You're Just Not That Into Him, Either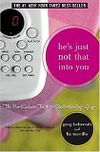 The all-star cast of He's Just Not That Into You already
includes Jennifer Aniston, Kris Kristofferson, Scarlett Johansson,
Jennifer Connelly, Kevin Connolly, Justin Long, Ginnifer Goodwin, Bradley
Cooper and Drew Barrymore, who's one of the producers.
Now it may expand by one Ben Affleck; he's in negotiations
to join the ensemble film, which is scheduled for a 2009 release.
Ken Kwapis (License to
Wed, The Sisterhood of the Traveling
Pants) will direct.
The movie's based on a humorous self-help book of the same
name by Greg Behrendt (a standup comedian and consultant for Sex and the City) and Liz
Tucillo (Sex and the City's executive story
editor). At first glance, the book
doesn't seem like a good candidate for adaptation. But chapter headings like "He's just not into
you if he's not asking you out" (or calling you, or dating you, or having sex
with you) do seem as if they might weave together into those "interconnected
story arcs" promised by the advance publicity.
Read More