Adidas' Half-Assed Star Wars Sneakers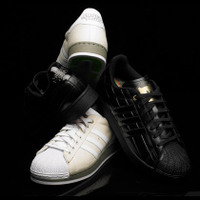 As far as cynical cash-ins of major science fiction franchises are concerned, Adidas has just taken the pageant prize.
At $150 bucks a pair, Adidas has just revealed their upcoming brand of Star Wars sneakers. Not that you could tell at first glance what you're paying for: far from looking futuristic or very Star Wars, they look like every other pair of sneakers out there.
You can probably guess that the black and gold sneakers are meant to be Darth Vader kicks, although I can't think of a single speck of gold on Darth Vader's outfit. But more perplexing are the light beige and green ones: they belong to Yoda.
Come on, Adidas. Yoda doesn't even wear shoes, and if he did, he'd doubtlessly opt for a darker color to cover up all the guano and hummus of Dagobah's disgusting swamps.
I'm hoping that the line might slightly be redeemed by a clever series of ads featuring a sneaker-clad Yoda bunny-hopping around the room, saber dueling Lord Vader. But I'm not holding my breath.
Read More