A Roger Corman Favorite Is Honored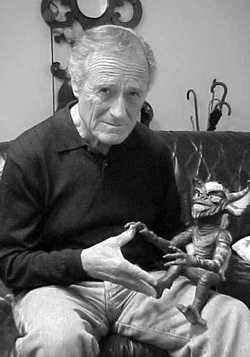 Well it's about time.
Dick Miller, not only my all-time favorite actor but probably the greatest actor of all time (no exceptions), is finally getting a lifetime achievement award at the 43rd annual Cinecon, the longest running fan-run film festival, this Sunday in Los Angeles.
In a career that has spanned over 50 years, Dick Miller has worked with
some of the biggest directors around, from Steven Spielberg (1941) to Martin Scorsese (New York, New York; After Hours) and James Cameron (he's the gun salesman in The Terminator). But Miller is probably best known for his association with two horror legends.
These are Roger Corman — Miller starred in Corman's A Bucket of Blood, among many other films — and Joe Dante who will be presenting Miller with his award and has cast Miller in all of his films, from Hollywood Boulevard to the Gremlins films (where he played Mr. Futterman) to Looney Tunes: Back in Action.
What I love about Dick Miller is how he comes across as a real no-B.S. kind of guy, someone who you want in your corner and is not to be taken lightly, while at the same time seeming a regular Joe guy, no matter what the role. He is a character actor in the truest sense. Having been lucky enough to have spent some time in his company back in 1995 when he was promoting Demon Knight in NYC, I can tell you for a fact that he's a sweetheart of a guy. This honor is long-deserved. Congratulations, Dick!
Read More