A Million Words On ROTJ's Lack Of Quality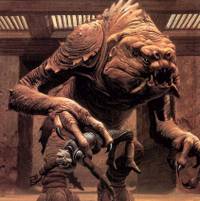 I think everyone will agree that Return of the Jedi sucked chrome off a trailer hitch. It's not the worst of the Star Wars films, but it owes a debt of gratitude to The Phantom Menace for that miracle. I often think of Return of the Jedi as two separate things: an incredible 30 minute short featuring the rescue of Han Solo from the palace of Jabba the Hutt, and then a crappy prequel to the Ewok television movies.
I have strong opinions about Jedi. I could probably write about it quite a bit. But I'm not sure I could write nearly as much about its problems as Film Threat has done. They've drafted an astonishing thesis on Return of the Jedi, listing fifty, fully-fleshed out reasons why it's a terrible film.
And I think they've nailed it. The big thing they mention is just the bored acting of everyone involved, and I think that goes a far way to explain why it feels so tacked on. All of the principle actors involved feel like they are just cashing another paycheck on a tired film that even they hate. I don't know if it's bad directing (although it is badly directed) or the actors being completely fed-up with George Lucas' unutterable dialogue, but stalwart performers like Harrison Ford seem like they are on lithium through much of the film.
Film Threat's full list is too detailed to possibly summarize. Go check it out. It's really hard to argue with any of their reasons.
50 REASONS WHY RETURN OF THE JEDI SUCKS [Film Threat, via SF Signal]
Read More